🐾 ABOUT US 🐾

Welcome on our website!
Yuukitohokori FCI is a kennel of 3 incredible primitive breeds of dogs from the Asian Spitz family;
A very rare, not very popular but wonderful, loyal, intelligent and active breed – Korean Jindo. We are the first kennel of this breed in Poland ❤️
Smaller, social, cheerful but stubborn and independent – Shiba Inu
Proud, smart, stubborn, eye-catching and gaining more and more popularity – Shikoku Ken
We are located in a small city Bochnia on the south of Poland~
We belong to the branch in Kraków [ZKwP O/Kraków].
We do not respond to short messages "what price?". Let's respect each other.
---
---
🐾 WHERE YOU CAN MEET US 🐾
show | date

Who can you meet there:
JINDO:
SHIBA:
SHIKOKU:
---
🐾 PUPPY NEWS 🐾
On September 4 we welcomed our second Korean Jindo litter to the world, another "Fantastic 4"! At the same time this is the second litter of this breed in Poland~ 🥰
We have puppies available:
– wolf grey boy (as a pet only, at a lower price)
– red fawn girl 
---
🐾 LATEST NEWS 🐾

On September 18 we welcomed our second Shiba litter to the world! 🥰
Hanabi gave birth to 3 beautiful puppies; 🧡 red girl, 🤎 black sesame boy and 🧡 red boy.
Daddy, Hagrid House of Paws, belonging to our friends has become a proud dad 🔥
---
🐾 IN OUR KENNEL 🐾
Korea Jindo Dog
Shiba Inu
Shikoku Ken
---
🐾 GALLERY 🐾
Meet Our Pack <3
---
– We feed our dogs with Super Premium dry food from husse –
– Our dogs are prepared for shows with professional cosmetics by Plush Puppy –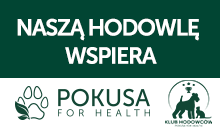 – We care about our dogs health with Pokusa nutritional supplements –