Welcome on our website!
Yuukitohokori FCI is a kennel of 3 incredible primitive breeds of dogs from the Asian Spitz family;
A very rare, not very popular but wonderful, loyal, intelligent and active breed – Korean Jindo. We are the first kennel of this breed in Poland ❤️
Smaller, social, cheerful but stubborn and independent – Shiba Inu
Proud, smart, stubborn, eye-catching and gaining more and more popularity – Shikoku Ken
We are located in a small city Bochnia on the south of Poland~
We belong to the branch in Kraków [ZKwP O/Kraków].
We do not respond to short messages "what price?". Let's respect each other.
---
---
🐾 WHERE YOU CAN MEET US 🐾
show | date

Who can you meet there:
JINDO:
SHIBA:
SHIKOKU:
---
🐾 PUPPY NEWS 🐾
The wait-list for our first Shikoku litter has been opened. The parents will be Komachi (our last import from Japan) and our beautiful multi champion, Interchampion Toshiya. We expect puppies around summer.
---
🐾 LATEST NEWS 🐾

Great news from our beauty Komachi the Shikoku!🤩 Today, in the Kraków branch of the Polish Kennel Club [ZKwP] she passed the breeding qualification under the eye of International Judge Mrs. Monika Kuriata-Okarmus 🫶
She received a very nice description 🥰
Good size, the whole feminine in expression, proportional head, ears well set and worn, well-shaped eyes, correct pigmentation, well-defined withers, rectangular silhouette, medium bone, coat with the correct structure and color, normal angulation of the limbs, correct movement
We are very happy to say that the wait-list for our first Shikoku litter is officially open! 🎉 We cannot wait to welcome little puppies after Komachi and Toshiya, around summer if everything goes well.
---
🐾 IN OUR KENNEL 🐾
Korea Jindo Dog
Shiba Inu
Shikoku Ken
---
🐾 GALLERY 🐾
Meet Our Pack <3
---
– We feed our dogs with Super Premium dry food from husse –
– Our dogs are prepared for shows with professional cosmetics by Plush Puppy –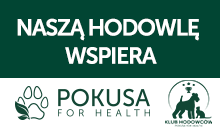 – We care about our dogs health with Pokusa nutritional supplements –