🐾 ABOUT US 🐾

Welcome on our website!
Yuukitohokori FCI is a kennel of 3 incredible primitive breeds of dogs from the Asian Spitz family;
A very rare, not very popular but wonderful, loyal, intelligent and active breed – Korean Jindo. We are the first kennel of this breed in Poland ❤️
Smaller, social, cheerful but stubborn and independent – Shiba Inu
Proud, smart, stubborn, eye-catching and gaining more and more popularity – Shikoku Ken
We are located in a small city Bochnia on the south of Poland
Find out more about us and our mission here: About Us
We belong to the branch in Kraków [ZKwP O/Kraków].
We do not respond to short messages "what price?". Let's respect each other.
---
---
🐾 WHERE YOU CAN MEET US 🐾
show | date

Who can you meet there:
JINDO:
SHIBA:
SHIKOKU:
---
🐾 PUPPY NEWS 🐾
!! PREGNANCY CONFIRMED !!
Expected colors: red fawn / white / wolf grey
   (wait list is open for serious inquiries)
---
🐾 LATEST NEWS 🐾

Today (4th Aug), on the website of the Club of Spitz and Primitive Breeds, there is information about the approval by the Polish Kennel Club of several breeds from group V to participate in shows of hunting breeds. We are talking about HOKKAIDO, KAI, KISHU, KOREA JINDO DOG, SHIBA and SHIKOKU.
Pursuant to this information, dogs of these breeds will be admitted to work competitions and will obtain utility diplomas. At the moment there is no working class for them at dog shows.
From now on, we can enter our dogs to dog shows of hunting breeds.
---
🐾 IN OUR KENNEL 🐾
Korea Jindo Dog
Shiba Inu
Shikoku Ken
---
🐾 GALLERY 🐾
Meet Our Pack <3
---
– We feed our dogs with Super Premium dry food from husse –
– Our dogs are prepared for shows with professional cosmetics by Plush Puppy –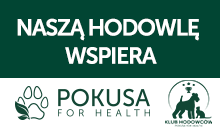 – We care about our dogs health with Pokusa nutritional supplements –