🐾 ABOUT US 🐾

Welcome on our website!
Yuukitohokori is a kennel of Korean Jindo, Shiba Inu and Shikoku Ken. We are the first kennel of Jindo dogs in Poland ❤️
We are located in a small city Bochnia on the south of Poland.
Find out more about us and our mission here: About Us
We belong to the branch in Kraków [ZKwP O/Kraków].
We do not respond to short messages "what price?". Let's respect each other.
---
---
🐾 WHERE YOU CAN MEET US 🐾
International Dog Show in Wisła | 3.07.2022

Who can you meet there:
JINDO: Bucky
SHIBA: Hanabi
SHIKOKU: Komachi (?)
---
🐾 LATEST NEWS 🐾

XXIV International Dog Show in Kraków | 11.06.2022
~~KOREA JINDO DOG~~
BokSil of Yuukitohokori | vel. Bucky
8,5 months old
Puppy class:
VERY PROMISING
BEST PUPPY IN BREED
✨ His last time in Puppy class ✨
Bomi of Noryeong Sanmaek
Open class:
EXCELLENT
CAC
~~SHIKOKU~~
Toshiya-Gaia v.d. Egmato
Champion class:
EXCELLENT
BEST DOG
BEST OF BREED
CAC
CACIB
Judge: Mrs. Mariola Agata Semik
~~SHIBA~~
Ashimari No Hanabi Go Yuukitohokori
16 months old
Junior Class:
EXCELLENT
✨ Hanabi received the second mark for breeding qualification ✨
Judge: Mr. Ryszard Wacławik
---
🐾 IN OUR KENNEL 🐾
Korea Jindo Dog
Shiba Inu
Shikoku Ken
---
🐾 GALLERY 🐾
Meet Our Pack <3
---
– We feed our dogs with Super Premium dry food from husse –
– Our dogs are prepared for shows with professional cosmetics by Plush Puppy –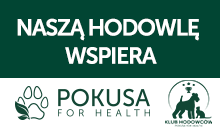 – We care about our dogs health with Pokusa nutritional supplements –